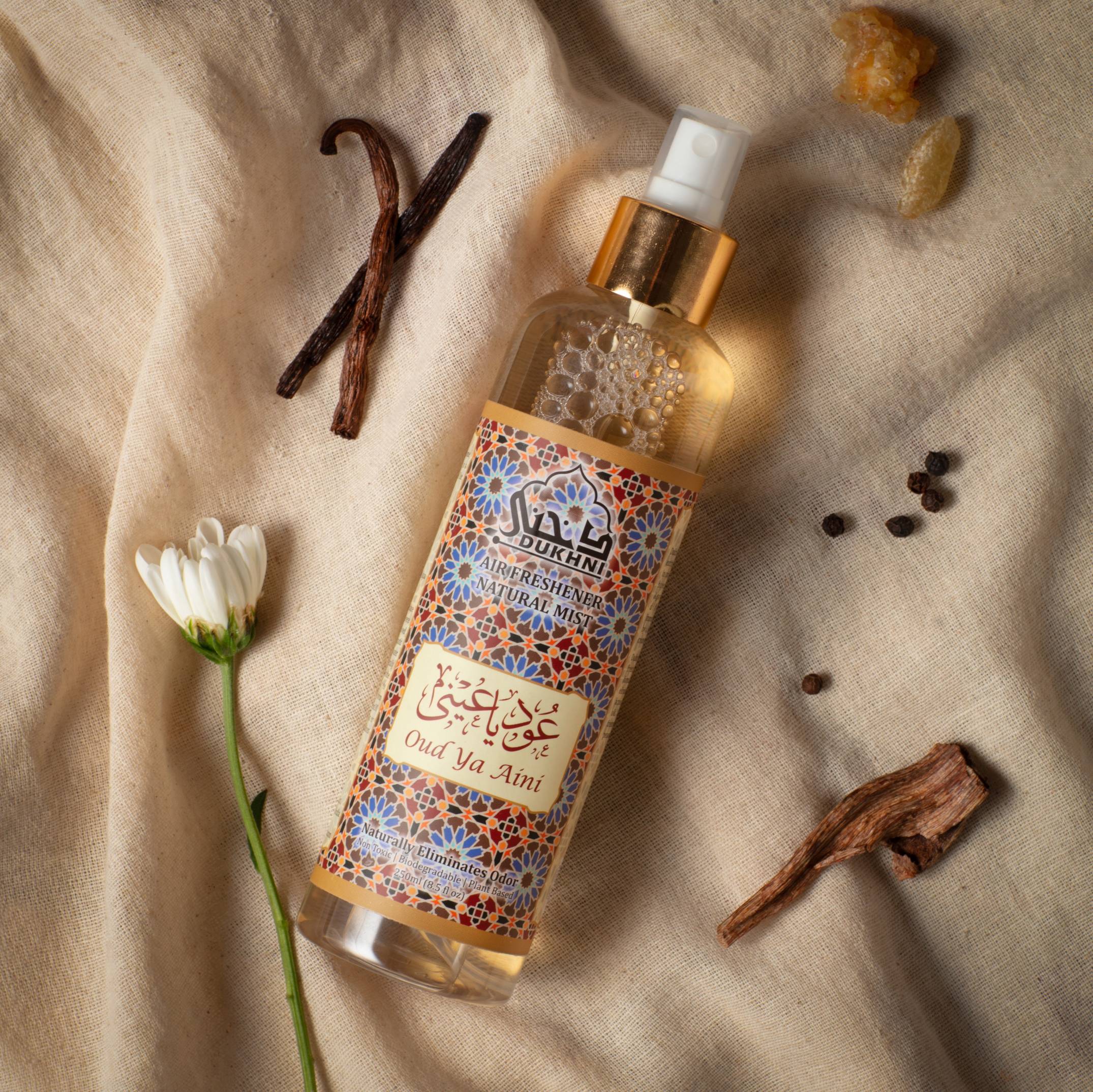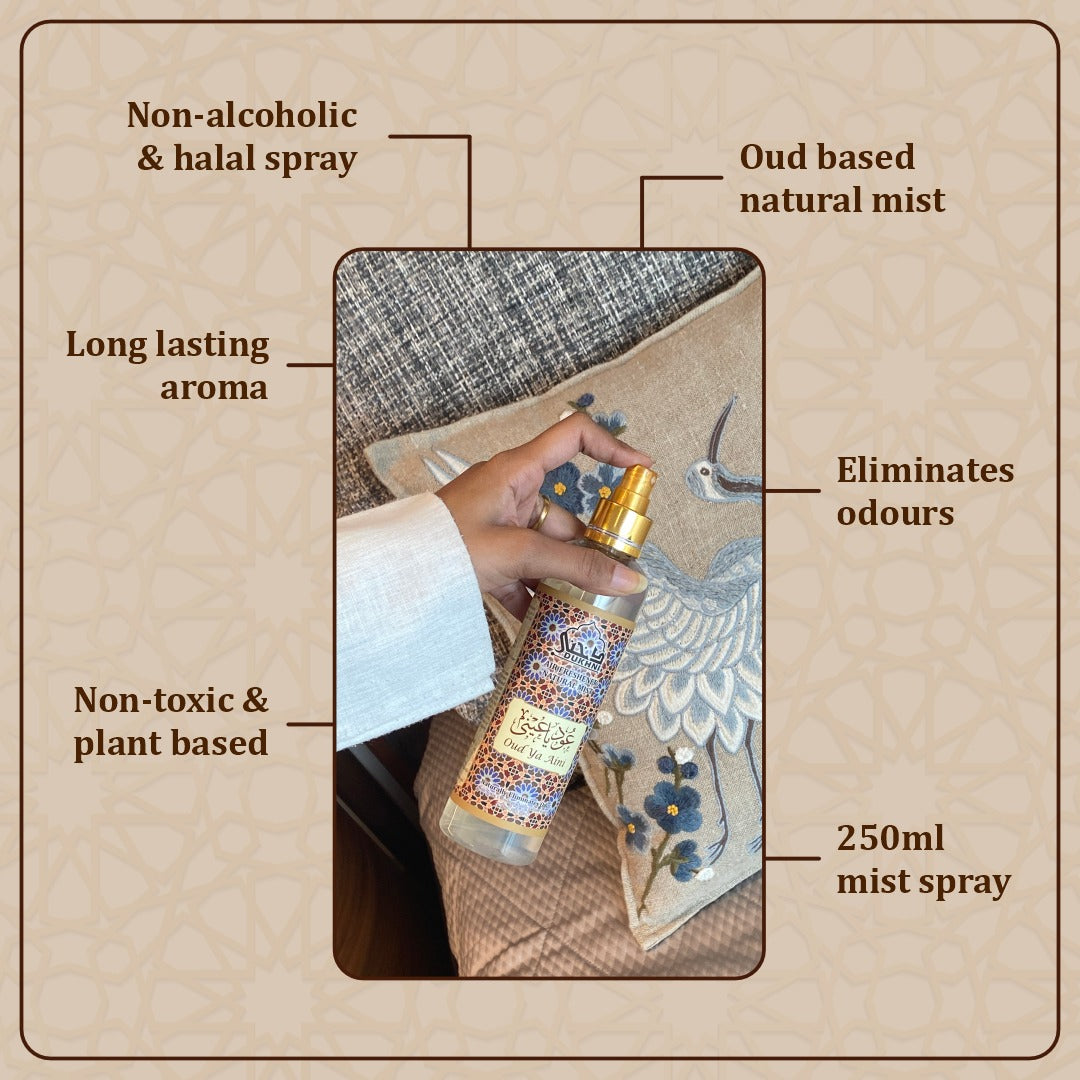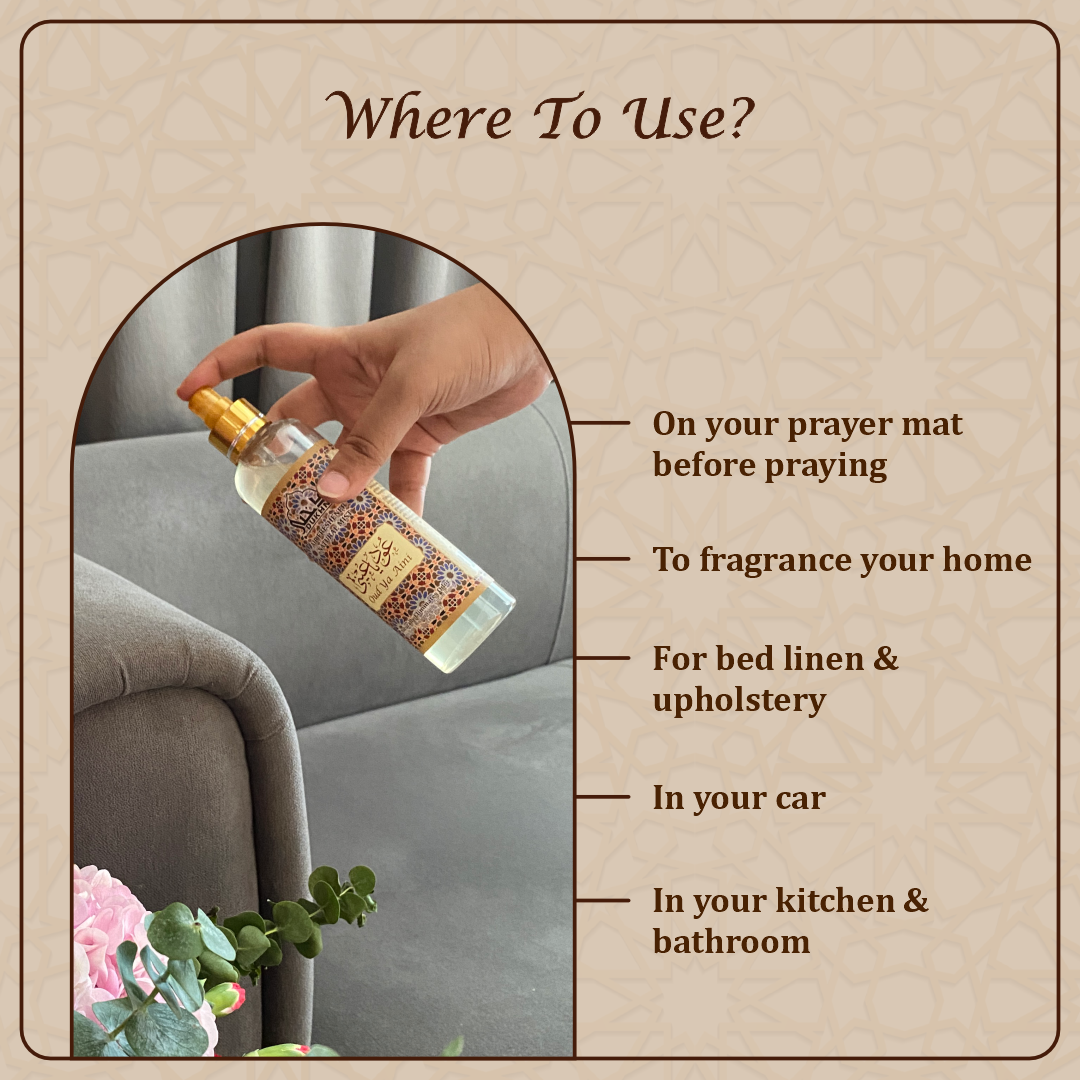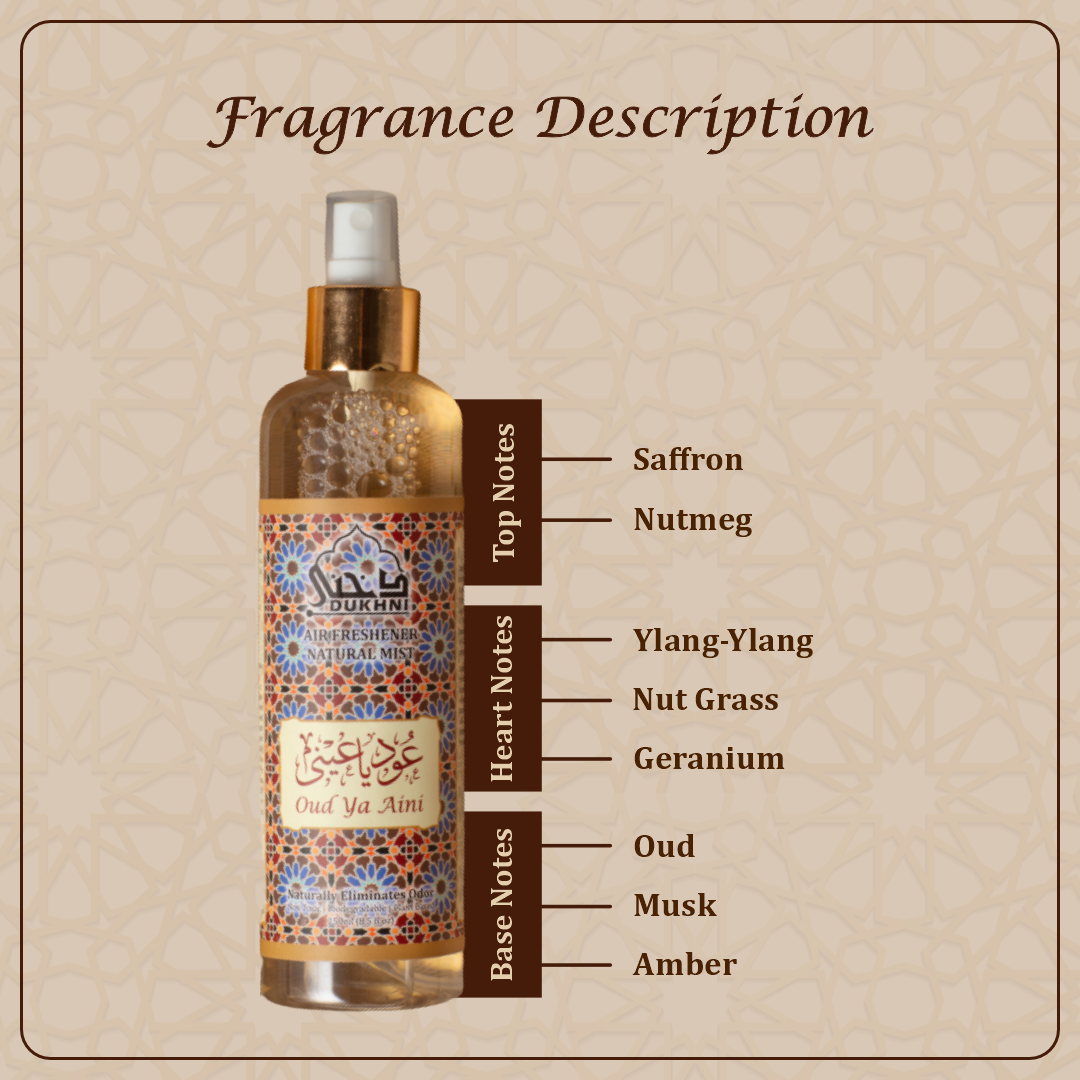 Oud Ya Aini Mist Spray | عود يا عيني
250ml of oud based attar al faraash - air freshener & room spray
Description

How to use

Shipping Info

Uplift the mood of your home instantly. This versatile mist can be used as air freshener, car spray and linen spray.
Scent profile: Oud Ya Aini natural mist is a non-alcoholic fabric and room spray with a sophisticated oriental feel. With warming top notes of saffron and nutmeg leading to an earthy twist of nut grass and ylang ylang and a sultry base of amber and agarwood, this is a heady scent with zest and depth.

What's included? 1 x 250ml Bottle of Oud Ya Aini Attar Al Faraash.

Transform your space Dukhni mists are ideal for refreshing fabrics, prayer mats, furniture, and more. Versatile as air fresheners, car sprays, or for revitalizing your kitchen and bathroom, they're perfect for any moment, be it pre-prayer, pre-guests, or post-cleaning.

Why choose Dukhni Mists? With their enduring fragrance, ethical ingredients (non-alcoholic, cruelty-free, vegan), and connection to the timeless Arabic tradition of home scenting, they stir nostalgia and bring forth serenity. Dukhni is committed to delivering an authentic and opulent aromatic journey.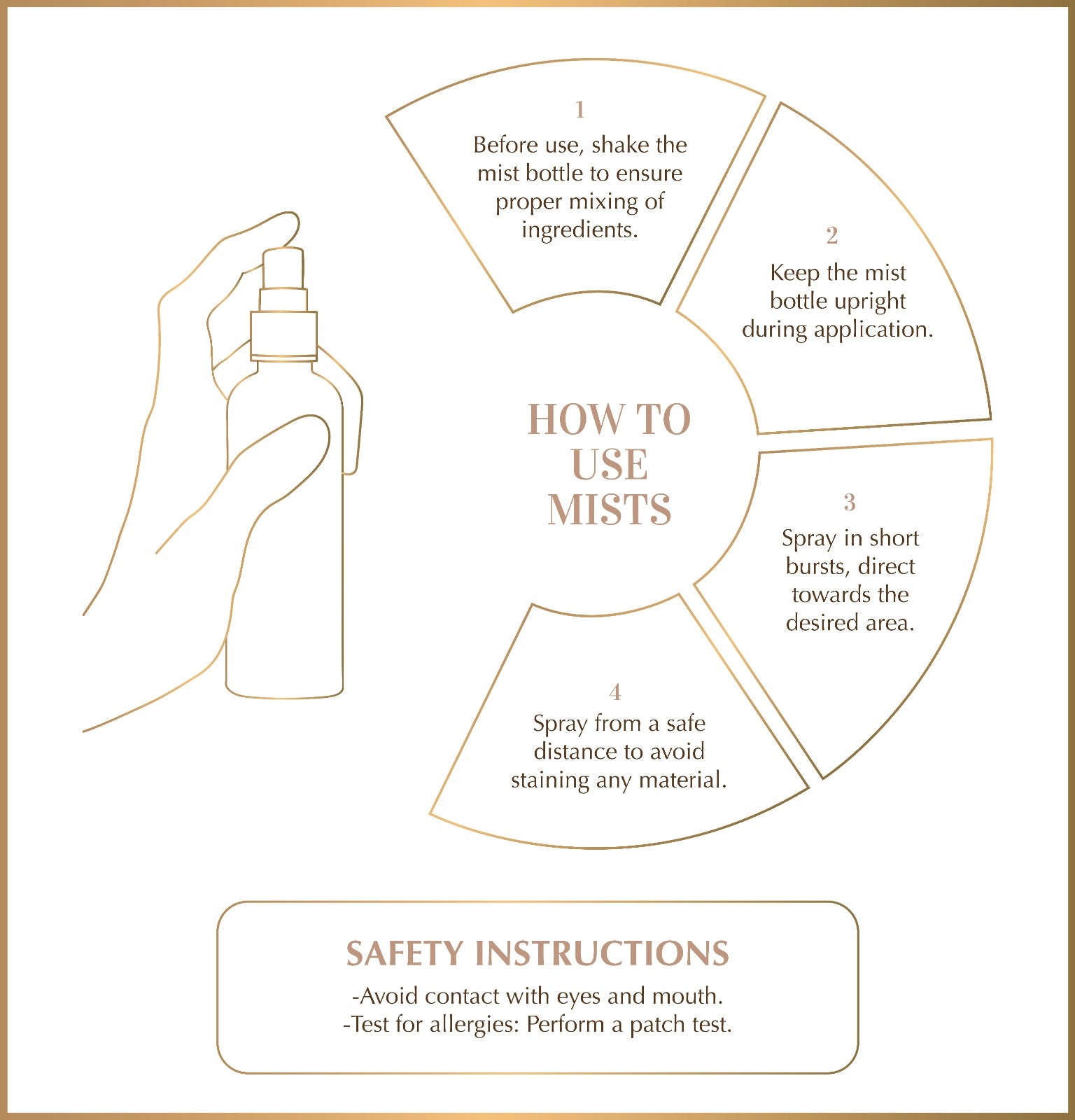 7-9 days standard delivery. Free Shipping on all orders within CA
3-4 days expedited shipping. $7 shipping fee within CA
Free expedited shipping on orders above $120
Oud Ya Aini Mist Spray | عود يا عيني
Shipping

Estimated delivery

Shipping charges for your order will be calculated and displayed at checkout. 

The following standard and expedited delivery estimates and rates.

All Canada orders - Free Standard Delivery across Canada (5-9 business days)
Expedited Shipping - $7 CAD (3-4 business days)
Free Expedited Shipping - Orders Above $120 CAD (3-4 business days)

Please note that our shipping timelines are estimates. We reserve the right to delay delivery and shipment and are not liable to compensate customers for delays beyond the estimated delivery time.

Returns & Refund

We do not accept any returns and do not issue refunds once orders are purchased. If there is an issue with your order, we will try our level best to fix it - and are committed to a good experience for all our customers. 

Damages & Exchange

If your order arrives damaged, defective, or incorrect, please contact us within 7 days of receiving the product so that we can evaluate the issue and make it right.

We do not accept exchanges - however if you have a particular issue, please email us at - customerservice@dukhni.com & we will try our best to accomodate your request. 

Get in touch

Use this to answer some common questions you hear from your customers. You could discuss product details, size fit, shipping policies, or anything you think would help merchants make an informed decision about your products. This section will appear across all products.
FAQ

Can I spray the mist on my body and hair? 

Dukhni mist sprays are non-alcoholic natural mist sprays that are ideally meant to be used as a room freshener spray and can be used on fabrics, sofas, beds, carpets, curtains etc. 

 Can I spray the mist on clothes? 

Yes, Dukhni natural mist sprays can be used on any fabric but please maintain some distance between the mist and the fabric while you are spraying. 

Can I use these mists around my pets? 

 Yes, you absolutely can use the mists around your pets, but please do not use the mists on your pets. It is highly recommended you conduct a test spray and check if your pet has an allergic reaction to the same. 

 Can these mists be used during prayer? 

Dukhni mist sprays are water based and non-alcoholic which makes them perfect for spraying on prayer mats and clothes. 
What makes this the best choice?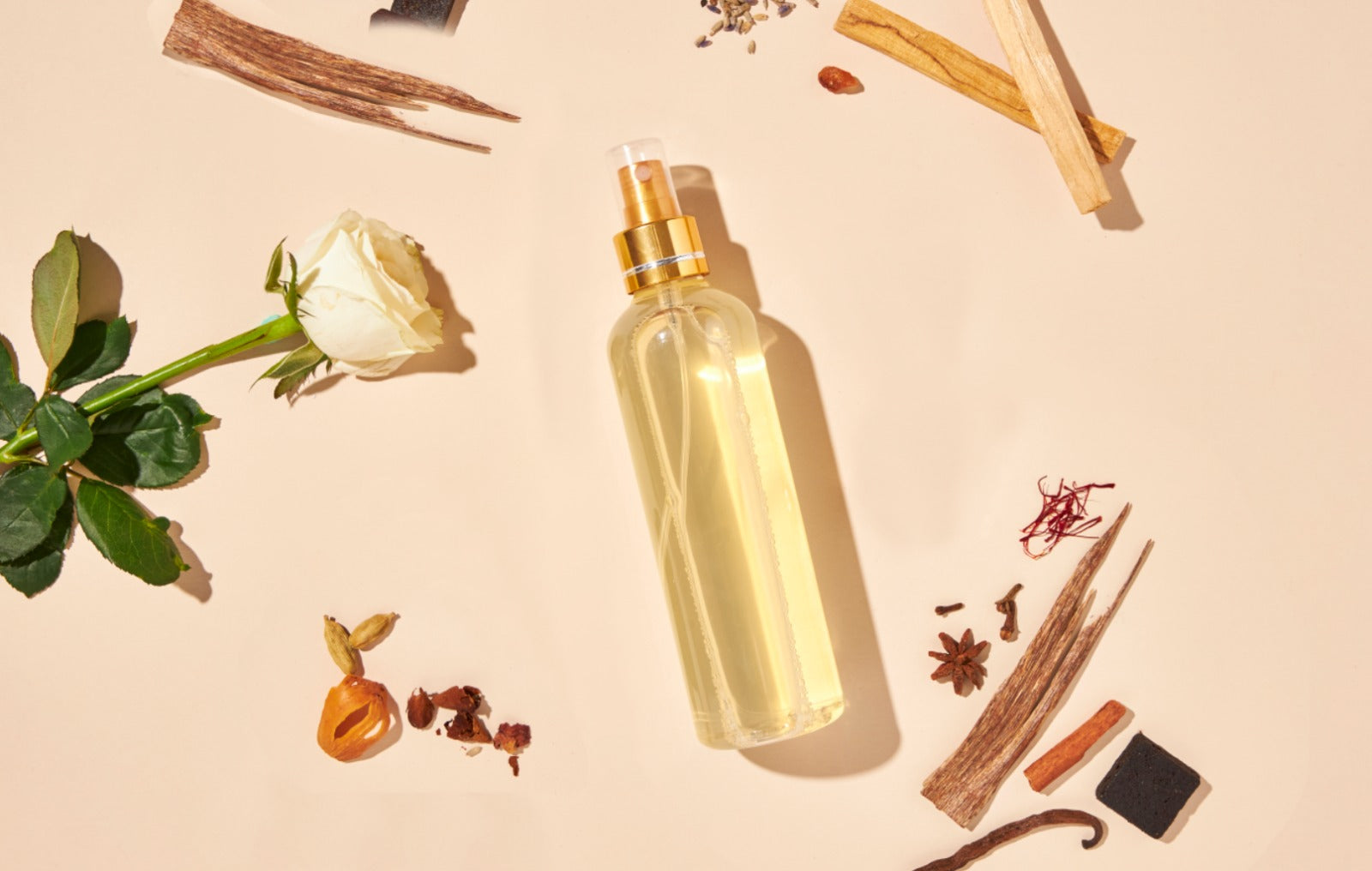 Luxurious Oud based fragrance
Capture the alluring scent of Oud and add a touch of luxury and sophistication to your home.
Long lasting & Refreshing
Revitalizes fabrics, bed linen or rooms, eliminates odors and creates a warm and inviting ambience.
Viewers who bought this also bought